Here's my two tier HERMS system. It uses 3 15 gallon keggles that Todd Frye cut the tops out of for me, a 50 ft. stainless wort chiller coil for the heat exchanger, Blichman brewmometer thermometers in each keggle, stainless 1/2 inch fittings and 3 piece ball valves, and one chugger pump, which circulates my mash water and allows me to sparge from the HLT. I control the pump with a simple switch box that I made from parts I got at Lowes. Then I gravity drain the mash tun into the boil kettle. The HERMS coil also serves as the wort chiller at the end of the boil, as I pump the wort through it after filling the HLT with ice water. It then returns to the boil kettle through the whirlpool fitting. The first run on this system, I had the whirlpool arm pointing toward the side pickup tube so it wasn't creating a whirlpool like it did in testing.
Oops! Fixed it though. The frame was built by myself and my crappy self-taught welding skills out of 1x2 rectangular steel tubing. Don't remember the gauge of the steel though. The welds aren't all pretty, but the damn sure hold well.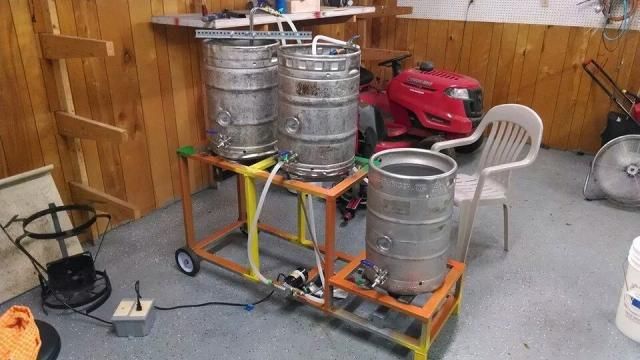 Here are the vessels from left to right in the first pic.
The HLT with HERMS coil.
The mash tun with false bottom and loc-line adjustable hose, which allows me to adjust the position to feed the recirculation/sparge water right at the surface and help prevent channeling through the mash bed.
And the boil kettle, with side pickup and whirlpool return fitting.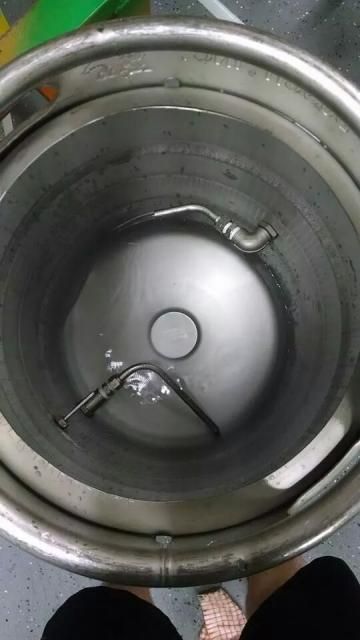 Hope you guys like it. Let me know what you think! Cheers!